First time in Prague
István Sky – Angelic Voice Healing –
Concert & Meditation Ceremony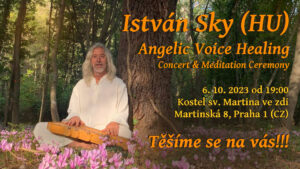 István Sky is all-rounded tallented musician. His healing voice sounded in many countries in all the continents.  His songs have milions of views.
Isván´s creations is very colourful. It connects the roots of many cultures (his own native Hungarian and Transylvanian with Tibetan, Indian, Sufi´s, South American…). His voice has an extraordinary range – including all the gentle angelic, dynamic shamanic or the deep throught singing. He sings the traditional mantras, his own songs, he´s chanelling his music directly from the Source. He plays a lots of instruments – the guittare, citerra, Indian tampura, sarod, Tibetan and other bowls, shamanic drums, dorog, many kinds of flutes etc. For many years he´s living in the harmony with the nature and the Spirit and he gives forward this quality through his music and teaching.
I love to use István´s music for my massages, it brings my clients to the state of deep harmonisation, healing and remembering the love in the heart and for the life. I wished very much to hear it one day in a live concert – and now it´s happening and I´m a part of that. Coming soon…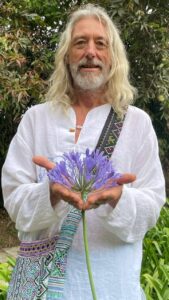 István Sky – Angelic Voice Healing
Concert & Meditation Ceremony
Date: October 6th 2023
Hour: 7:00 pm
Place: Church of the St. Martin in the Wall
Address: Martinská 8, Praha 1
map:
Tickets – order here:
Presale:
till  September 14th 2023:
750 CZK/ 33 EUR
from September 15th to October 5th 2023:
900 CZK /38 EUR
In the church October 6th:
1.200 CZK / 50 EUR
See more information about – here:

For the one who wanted to be taught by Istvan:
Workshop in Rabouň (90 minutes driving of Prague) 28.9.-1.10.2023
Looking forward to seeing you!!!
With Love / Szeretettel
Alena a István